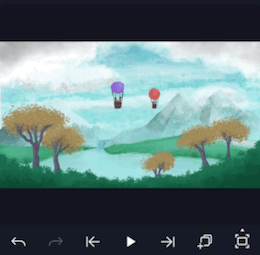 Use two-finger gestures to zoom in/out and navigate around your project for more precise editing. These gestures can only be used when no layer is selected. When a layer is selected, two-finger gestures are used for editing the chosen layer instead.
To use two-finger gestures to pan and zoom, switch on Pan and Zoom Mode by tapping this icon:

The following two-finger gestures are available:
Pinch apart with two fingers to zoom in.

Pinch together with two fingers to zoom out.

Double-tap with two fingers to re-center the preview and return to 100%. R

epeat the same gesture to return to the previous zoom level and position

.
You can also tap to zoom in or out using the Preview Zoom control, which can be found in the View Options panel.
When you turn on Active Camera View, the preview will re-center and return to 100%. Once it's turned off, the preview will return to the previous zoom state. You can still pan and zoom when Active Camera View is on, but the new zoom level and panning position will only last until you turn it off again.